26.11.2019 | Original Research | Ausgabe 3/2020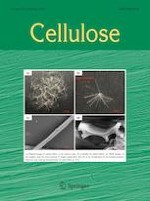 Thermosensitive hydrogels based on methylcellulose derivatives for prevention of postoperative adhesion
Zeitschrift:
Autoren:

Yaqing Huang, Weihong Guo, Junzhao Zhang, Xiao Peng, Guoxin Li, Li-Ming Zhang, Liqun Yang
Wichtige Hinweise
Electronic supplementary material
Yaqing Huang and Weihong Guo have contributed equally to this work.
Publisher's Note
Springer Nature remains neutral with regard to jurisdictional claims in published maps and institutional affiliations.
Abstract
Postoperative adhesions commonly cause severe complications, and also increase the risk of adhesiolysis. To improve postoperative adhesion, a series of 2-methacryloyloxy ethyl phosphorylcholine conjugated methylcellulose (MC-g-MPC) derivatives were synthesized to utilize the anti-protein adsorption of 2-methacryloyloxy ethyl phosphorylcholine and the thermosensitivity of methylcellulose. The structures of MC-g-MPC derivatives were characterized by Fourier transform infrared spectroscopy (FTIR) and 1H nuclear magnetic resonance (1H NMR) analyses, and their thermosensitivities were studied by rheological analysis. The gelling temperature of the MC-g-MPC hydrogel was 33 °C and gelling time of the hydrogel under body temperature was 2.5 min. The morphology of the MC-g-MPC hydrogel was observed by scanning electron microscopy (SEM). The results of in vitro cytotoxicity and immunotoxicity, and hemolysis assays demonstrated the good biocompatibility of MC-g-MPC hydrogels. Following the injection of the MC-g-MPC hydrogel, the postoperative adhesion of damaged ceca in Sprague–Dawley rats was improved when compared with a control group (no treatment). In addition, MC-g-MPC-0.25 hydrogel could downregulate the expression of Col-I and Col-IV collagen proteins, thus exert its anti-protein absorption capacity. Therefore, the MC-g-MPC hydrogel is a promising biomaterial for preventing postoperative adhesion.
Graphic abstract
×