01.10.2019 | Ausgabe 4/2019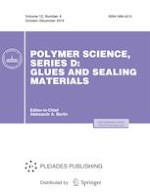 Thermotropic Liquid Crystalline Polyesters with Mesogenic Fragments Based on the
p

-Oxybenzoate Unit
Zeitschrift:
Autoren:

A. I. Akhmetshina, E. K. Ignat'eva, T. R. Deberdeev, L. K. Karimova, Yu. N. Yuminova, A. A. Berlin, R. Ya. Deberdeev
Abstract
Main trends in the development of thermotropic liquid crystalline (LC) polymers based on
p
‑hydroxybenzoic acid are described in this review. The relationship between the structure of the main chain of copolymers and their thermal and mechanical properties is shown. The possibility of creating biodegradable LC polymers is demonstrated.