01.08.2016 | Original Article | Ausgabe 2/2016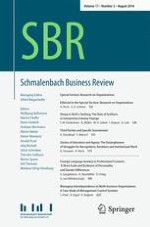 Third Parties and Specific Investments
Zeitschrift:
Autoren:

Gerald Eisenkopf, Stephan Nüesch
Wichtige Hinweise
We are grateful to Björn Bartling, Urs Fischbacher, Christian Grund, Roberto Weber and seminar participants at the WK ORG Workshop 2015 in Zürich, at the Thurgau Institute of Economics, the University of Aachen (RWTH), the University of Freiburg, the University of Konstanz and the International Meeting on Experimental and Behavioral Economics (IMEBE) 2013 in Madrid for helpful comments. The usual disclaimer applies.
Abstract
Competitive advantage is typically based on a unique nexus of firm-specific investments that creates inimitable quasi-rents. Because it is impossible to write complete contracts on how to distribute the quasi-rents, stakeholders tend to underinvest in firm-specific assets to avoid the hold-up risk. This paper empirically tests the effect of third-party ownership on specific investments. Third-party ownership assigns the rights of residual control to independent fiduciaries. We conduct variations of the trust game, in which a third party, rather than the receiver, distributes the returns on investments. A randomly chosen third party with a fixed payment induces larger investments over time although the experimental design rules out reputation building. If receivers select the third parties, this benefit vanishes. If the third party receives a reward for the appointment, investments actually decrease. Investors (unwarrantedly) fear lower back transfers in such cases.