01.12.2009 | Ausgabe 4/2009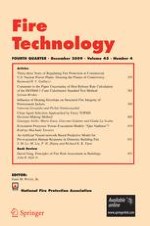 Thirty-three Years of Regulating Fire Protection at Commercial U.S. Nuclear Power Plants: Dousing the Flames of Controversy**
Zeitschrift:
Autor:

Raymond H. V. Gallucci
Wichtige Hinweise
** The views expressed herein are strictly the author's personal ones and do not necessarily represent any opinion or position by the U.S. Nuclear Regulatory Commission (USNRC). Information and references are limited to a timeline only through the end of 2007.
Abstract
This article focuses on what have been, and may continue to be, the more controversial aspects of fires at commercial nuclear power plants regulated by the U.S. Nuclear Regulatory Commission. Examining what has transpired in fire protection regulation since the 1975 fire at Browns Ferry Unit 1, which first focused attention on the potential hazard of fire at commercial nuclear power plants, we offer a personal perspective as to whether or not the "the flames of controversy" have been "doused." We show that significant progress has been made while speculating whether these "flames" may ever truly be extinguished, or only kept under control. No core damage accident has ever occurred at a commercial nuclear power plant due to fire.