2017 | OriginalPaper | Buchkapitel
21. Thought Experiments in Model-Based Reasoning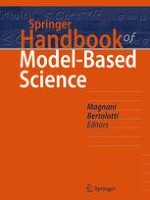 Erstes Kapitel lesen
Autor: Margherita Arcangeli
Verlag: Springer International Publishing
Abstract
Thought experimentation is at least as old as Western philosophy. Scholars have made much use of it in many disciplines. For instance, philosophical discussions on ethics, morality, knowledge, and language abound with thought experiments. Likewise, great scientific developments, such as in physics and mathematics, have been achieved via thought experimentation. This is true even long before the introduction of the term, between the late seventeenth and nineteenth centuries. But what is a thought experiment? Although giving a clear answer to this question is a very complicated task, it is quite common to consider thought experiments as pieces of reasoning about imaginary cases mainly performed with the aim of increasing our knowledge or understanding of the world. In this chapter, I review the lively debate on thought experiments. First, I introduce some famous examples and detail six of them (Sect.
21.1
). Second, I give some historical background (Sect.
21.2
). Then, I focus on three of the main questions asked in the literature, namely: What is a thought experiment? (Sect.
21.3
), What is the function of thought experiments? (Sect.
21.4
), How do thought experiments achieve their function? (Sect.
21.5
). These issues will lead to tackle other important points, such as the relationship between real and thought experimentation, the differences between philosophical and scientific thought experimentation, the role played by intuitions and imagination in thought experimentation.