01.08.2014 | Ausgabe 15/2014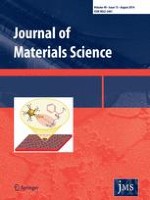 Three-dimensional hydrogel frameworks for high-temperature proton exchange membrane fuel cells
Zeitschrift:
Autoren:

Shuangshuang Yuan, Qunwei Tang, Benlin He
Abstract
With an aim of enhancing anhydrous proton conductivity and phosphoric acid (H
3
PO
4
) retention, we here report the employment of three-dimensional (3D) polyacrylamide-
graft
-chitosan (PAAm-
g
-CS) frameworks as supporters to load enormous H
3
PO
4
. Intrinsic microporous structure can seal H
3
PO
4
molecules in the interconnected 3D frameworks of PAAm-
g
-CS matrix during a dehydration process. The hydrogel membranes are thoroughly characterized by morphology observation, structural analysis, swelling kinetics, proton-conducting performances as well as electrochemical behaviors. Results show that H
3
PO
4
loading and therefore proton conductivity of the resultant PEMs are dramatically improved by employing PAAm-
g
-CS matrix in comparison with H
3
PO
4
-doped polybenzimidazole membranes. The highest H
3
PO
4
loading and anhydrous proton conductivity are 92.2 wt % and 0.083 S cm
−1
at 165 °C, respectively. The high H
3
PO
4
loading, reasonable proton conductivity in combination with simple preparation, low cost, and scalable matrix demonstrates the potential use of PAAm-
g
-CS hydrogel membranes in high-temperature proton exchange membrane fuel cells.