01.06.2019 | Original Article | Ausgabe 11/2019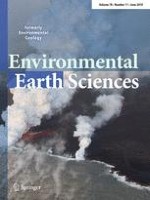 Three-dimensional pore network characterization of loess and paleosol stratigraphy from South Jingyang Plateau, China
Zeitschrift:
Autoren:

Tingting Wei, Wen Fan, Weina Yuan, Ya-ni Wei, Bo Yu
Wichtige Hinweise
Publisher's Note
Springer Nature remains neutral with regard to jurisdictional claims in published maps and institutional affiliations.
Abstract
The deformation and failure of a loess slope are closely related to the loess collapsibility and permeability, which are primarily controlled by the pore geometrical structure. This is a microstructural investigation of loess and paleosol from Jingyang on the South Loess Plateau in China using X-ray micro-computed tomography to explore the three-dimensional pore structure by quantitative pore network parameters. The three soil types (L1, L2 and S2) exhibit complex pore structures and obvious anisotropy, as reflected by dense networks, wide pore size ranges and different pore throat radii and frequencies at different dip angles. From L1 to L2 to S2, the structure tends to become more compact, the pore size tends to decrease, and the connectivity tends to weaken; these differences chiefly depend on the particle composition. In soil with low clay content, the clay particles mainly act as connectors of silt and sand particles or adhere to their peripheries. With high clay content, the clay particles also combine with silt particles to form bulky aggregates, generating some large inter-aggregate pores and numerous fine intra-aggregate pores. Pore structure, which provides space for water movement, has a profound influence on the mechanical behavior of soil, and the relationship between permeability and pore structure is discussed. The results demonstrate the positive role that the pore (> 13 μm) proportion, pore connectivity and pore throat radius play in permeability. Both the pore throat radius and the permeability coefficient are greater in the vertical direction than in the horizontal direction, implying a large pore throat has a greater effect on water migration than that of multiple small pore throats.