01.06.2015 | LINEAR AND ANGULAR MEASUREMENTS | Ausgabe 3/2015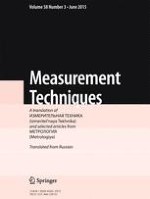 Three-Dimensional Reconstruction of the Surfaces of Relief Structures from Stereoscopic Images Obtained in a Scanning Electron Microscope
Zeitschrift:
Autoren:

V. P. Gavrilenko, D. A. Karabanov, A. Yu. Kuzin, V. B. Mityukhlyaev, A. A. Mikhutkin, P. A. Todua, M. N. Filippov, T. N. Baimukhametov, A. L. Vasil'ev
Wichtige Hinweise
Translated from Izmeritel'naya Tekhnika, No. 3, pp. 15−18, March, 2015.
The profile of the surfaces of two samples of monocrystalline silicon containing trapezoidal-shaped protrusions is established by means of three-dimensional reconstruction from stereoscopic images obtained in a scanning electron microscope and the average value of the height of the protrusions is determined. The results are compared with the results of measurements by an atomic-force microscope. The advantage in terms of precision of reconstruction for a sample that has been subjected to additional plasma treatment is explained by the formation of nanodimensional morphological features of the surface in the form of contrasting elements that increase the precision of coincidence of the images in the course of 3D reconstruction.