11.04.2015 | Ausgabe 12/2015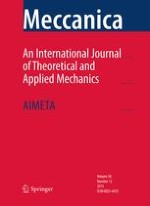 Threshold fracture energy in solid particle erosion: improved estimate for a rigid indenter impacting an elastic medium
Zeitschrift:
Autoren:

D. Peck, M. Wrobel, G. Mishuris, Yu. Petrov
Abstract
The case of a single erosion impact is considered. The paper improves and extends the results from Argatov and Mishuris (Philos Mag 93:2485,
2013
), where a lower bound for the threshold fracture energy of a rigid axisymmetric indenter was obtained based on the notion of incubation time prior to fracture. In the presented study we define an exact value for the initial energy required for fracture initiation and compare it with previous results. The incubation time based fracture criterion is utilized in order to locate the time of the initial fracture, along with the associated radial position. A brief examination of the effects of different particle parameters on the initial fracture is conducted.