01.05.2016 | Thematic Issue | Ausgabe 10/2016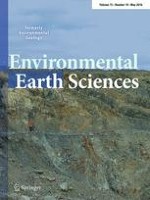 Time-dependent physicomechanical behavior of ballasts used for railway between Sabuncupinar and Kütahya in Western Turkey
Zeitschrift:
Autoren:

Zeynal Abiddin Erguler, Enes Zengin, Güzide Kalyoncu Erguler
Wichtige Hinweise
This article is part of a Topical Collection in Environmental Earth Sciences on "Geomaterials used as construction raw materials and their environmental interactions" guest edited by Richard Přikryl, Ákos Török, Magdalini Theodoridou, and Miguel Gomez-Heras.
Abstract
Geomaterials used in engineering projects and man-made structures naturally weather as a result of various physicochemical factors. Due to their long-term exposure to environmental conditions, geomaterials used for these purposes provide important information for understanding the effect of weathering processes on their time-dependent physical, mineralogical and mechanical changes. Since 1920s, ballasts have been extracted from a quarry composed of volcanic rocks and located in Sabuncupınar town to construct a railway between Kütahya and this town in western Turkey. In present study, a research was carried out on leftover and used ballasts and block samples taken from this site to assess their weathering properties in terms of time-dependent durability and stability characteristics. The weathering process-originated mineralogical and chemical variations of collected samples were identified by microscopic studies, scanning electron microscopy (SEM) with energy-dispersive X-ray spectroscopy system (EDS) and X-ray diffraction (XRD) techniques. Based on SEM–EDS analyses, it resulted evident that the Fe content increases in weathering rind of ballasts in comparison with their relatively fresh parts. Although environmental conditions caused weathering rinds of 2–2.5 mm in the outer part of ballasts within 90 ± 5 years, the petrographic and XRD analyses reveal a significant similarity between relatively fresh and weathering rinds of ballast in terms of mineralogical composition. However, despite that mineralogical similarity, the effect of time-dependent weathering processes was obviously seen from the results of slake durability and Los Angeles abrasion tests performed on ballasts extracted in 1965 ± 5 and exposed to environmental conditions since that time.