01.08.2010 | Ausgabe 4/2010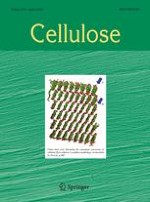 Time-resolved X-ray diffraction microprobe studies of the conversion of cellulose I to ethylenediamine-cellulose I
Zeitschrift:
Autoren:

Yoshiharu Nishiyama, Masahisa Wada, B. Leif Hanson, Paul Langan
Abstract
Structural changes during the treatment of films of highly crystalline microfibers of
Cladophora
cellulose with ethylenediamine (EDA) have been studied by time-resolved X-ray microprobe diffraction methods. As EDA penetrates the sample and converts cellulose I to EDA-cellulose I, the measured profile widths of reflections reveal changes in the shapes and average dimensions of cellulose I and EDA-cellulose I crystals. The (200) direction of cellulose I is most resistant to EDA penetration, with EDA penetrating most effectively at the hydrophilic edges of the hydrogen bonded sheets of cellulose chains. Most of the cellulose chains in the initial crystals of cellulose I are incorporated into crystals of EDA-cellulose I. The size of the emerging EDA-cellulose I crystals is limited to about half of their size in cellulose I, most likely due to strains introduced by the penetration of EDA molecules. There is no evidence of any gradual structural transition from cellulose I to EDA-cellulose I involving a continuously changing intermediate phase. Rather, the results point to a rapid transition to EDA-cellulose I in regions of the microfibrils that have been penetrated by EDA.