13.11.2017 | Ausgabe 4/2018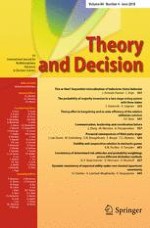 Timing effect in bargaining and ex ante efficiency of the relative utilitarian solution
Zeitschrift:
Autor:

Omer F. Baris
Abstract
In this note, I provide an axiomatic characterization of the relative utilitarian bargaining solution (RU) to Nash (Econometrica 18:155–162,
1950
) bargaining problems. The solution is obtained when Nash's independence of irrelevant alternatives axiom is replaced by the weak linearity axiom, while retaining the other three axioms. RU maximizes the sum of proportional gains, or, equivalently, minimizes the sum of proportional losses. RU is scale invariant and compared to the Nash (Econometrica 18:155–162,
1950
) and Kalai and Smorodinsky (Econometrica 43:513–18,
1975
) solutions, it is ex ante efficient when the bargaining problem is considered as a lottery of future bargaining problems.