29.05.2018 | Electronic materials | Ausgabe 17/2018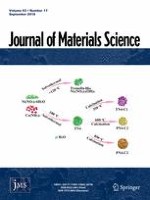 TiO2/C nanocomposites prepared by thermal annealing of titanium glycerolate as anode materials for lithium-ion batteries
Zeitschrift:
Autoren:

G. S. Zakharova, A. Ottmann, L. Möller, E. I. Andreikov, Z. A. Fattakhova, I. S. Puzyrev, Q. Zhu, E. Thauer, R. Klingeler
Wichtige Hinweise
Electronic supplementary material
Abstract
TiO2/C nanocomposites have been synthesized by developing a facile route based on the annealing of titanium glycerolate in inert atmosphere at 250–850 °C. X-ray diffraction studies reveal that the annealing temperature determines the crystal structure of the TiO2 phase in the compounds, which can be amorphous, anatase, and rutile. In contrast, the nanosized rod-like morphology which to a certain extent is predefined by the titanium glycerolate precursor does not depend on the annealing temperature. The carbon content of the TiO2/C composites amounts to 16–29 wt% and shows up, e.g., in the characteristic Raman D and G bands. Anatase-structured TiO2/C, which is obtained at 600 °C, exhibits the best electrochemical performance among the studied materials. Without the addition of carbon black, it reaches an initial specific discharge capacity of 378 mA h g−1 at 100 mA g−1 and exhibits excellent rate capability with a capacity of 186 mA h g−1 at 1000 mA g−1.