22.07.2017 | Original Paper | Ausgabe 8/2017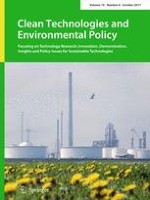 Titania-reduced graphene oxide nanocomposite as a promising visible light-active photocatalyst for continuous degradation of VVOC in air purification process
Zeitschrift:
Autoren:

Akram Ebrahimi, Shohreh Fatemi
Wichtige Hinweise
Electronic supplementary material
The online version of this article (doi:
10.​1007/​s10098-017-1393-2
) contains supplementary material, which is available to authorized users.
Abstract
Titania-reduced graphene oxide nanocomposites have been prepared through facile hydrothermal method by a reaction between P25 as TiO2 source and graphene oxide. Reduction of graphene oxide and its reaction with P25 nanoparticles were achieved simultaneously at high temperature and pressure during the hydrothermal process with the minimum organic solvents. Chemical bonds, crystalline structure, morphology, porosity and light absorption of composites along with their photocatalytic activity under UV and visible light irradiation were investigated. Transmission electron microscopy images showed that P25 nanoparticles, with diameters about 25 nm, were dispersed on the sheets of reduced graphene oxide (RGO) homogeneously. A stronger interaction between P25 and RGO provided a red shift about 20 nm in the absorption edge of the composites. To set up a continuous tubular reactor made from thin layer of the prepared material, composite films were coated on the external surface of a steel tube to make an annular reactor. The reactor was equipped with UV or visible light sources to investigate the photocatalytic activity of the prepared composites in a continuous air flow contaminated with specified amount of acetaldehyde as a VVOC (very volatile organic compound) model molecule. Degradation efficiency of P25–RGO with 0.5 wt% RGO was significantly high under visible light irradiation, and about 70% conversion was observed using an air flow at normal conditions with specific flow rate of 17 ml min−1 and 500 ppm acetaldehyde, by 30 mg of the coated composite in the reactor. Composites with low amount of RGO would be an appropriate photosensitizer and electron acceptor to suppress the recombination of photogenerated electron–hole pairs to enhance the photocatalytic performance.