01.02.2013 | Ausgabe 2/2013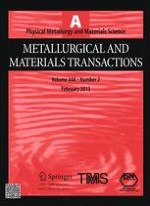 Titanium Carbide Reinforcement in Iron Matrix Through Carbothermal Reduction of Mechanically Milled Hematite and Anatase
Zeitschrift:
Autoren:

Hussain Zuhailawati, Mohd Salihin Hassin, Samayamutthirian Palaniandy
Wichtige Hinweise
Manuscript submitted December 11, 2010.
Abstract
This study investigated the influence of the duration of milling on the formation of TiC-reinforced iron composite through carbothermal reduction of a hematite and anatase mixture. Mixtures of hematite, anatase, and graphite powders were mechanically activated in a planetary ball mill in an argon atmosphere with different milling times (0 to 60 hours). X-ray diffraction showed that with increasing milling time, the crystallite size of the hematite decreased to nanometer range, accompanied by an increment in internal strain. Prolonging the milling process increased dislocation density of the as-milled powder. The as-milled powder was consolidated by cold pressing under 100 MPa and sintered in vacuum at 1373 K (1100 °C). High temperature during sintering resulted in the formation of iron and titanium carbide phases as confirmed by X-ray diffraction, scanning electron microscope, and energy dispersive X-ray analysis. Without mechanically activated milling, the reaction forming TiC did not occur during sintering at 1373 K (1100 °C), indicating a reduction in reaction temperature promoted by mechanical milling. An increase in milling time resulted in an increase in sintered density and hardness due to the fineness of the composite powder, together with complete TiC and iron phase formation.