01.01.2015 | Research Paper | Ausgabe 1/2015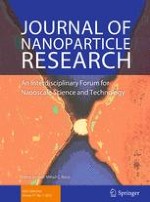 Titanium oxide (TiO2) nanoparticles in induction of apoptosis and inflammatory response in brain
Zeitschrift:
Autoren:

Ramovatar Meena, Sumit Kumar, R. Paulraj
Abstract
The ever increasing applications of engineered nanoparticles in 21st century cause serious concern about its potential health risks on living being. Regulatory health risk assessment of such particles has become mandatory for the safe use of nanomaterials in consumer products and medicines. In order to study the mechanism underlying the effects of nano-TiO
2
(TiO
2
nanoparticles) on the brain, wistar rats were administrated intravenously with various doses of nano-TiO
2
(21 nm) through the caudal vein, once a week for 4 weeks and different parameters such as bioaccumulation of nano-TiO
2
, oxidative stress-mediated response, level of inflammatory markers such as NF-κB (p65), HSP 60, p38, nitric oxide, IFN-γ and TNF-α, and level of neurochemicals in brain as well as DNA damage and expression of apoptosis markers (p53, Bax, Bcl-2, and cyto
c
) were evaluated. Results show that the concentration of nano-TiO
2
in the brain increased with increasing the doses of nano-TiO
2
. Oxidative stress and injury of the brain occurred as nano-TiO
2
appeared to trigger a cascade of reactions such as inflammation, lipid peroxidation, decreases the activities of antioxidative enzymes and melatonin level, the reduction of glutamic acid, downregulated levels of acetylcholinesterase activities, and the increase in caspase-3 activity (a biomarker of apoptosis), DNA fragmentation, and apoptosis. It may be concluded that nano-TiO
2
induces oxidative stress that leads to activation of inflammatory cytokines and an alteration in the level of neurotransmitters resulted in the induction of mitochondrial-mediated apoptosis.