2017 | OriginalPaper | Buchkapitel
tLab: A System Enabling Malware Clustering Based on Suspicious Activity Trees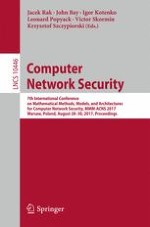 Erstes Kapitel lesen
Autoren: Anton Kopeikin, Arnur Tokhtabayev, Nurlan Tashatov, Dina Satybaldina
Abstract
We present a new approach for malware clustering in the domain of their behavior. To this end, we use a system called tLab that offers analysis and detection of modern complex malware including user-oriented and targeted attacks. Due to technologies used, tLab identifies and describes malware behavior at various levels of semantics, which makes it very instrumental in cluster analysis.
Technically, the system employs secure containers enabling user-dependent execution environment in malicious activity analysis. To provide effective malware detection, tLab has a technology for deep dynamic inspection of system-wide behavior, which allows for structural analysis and construction of so-called activity trees defined in the domain of system functionalities. Modified Hierarchical Colored Petri Nets are used for run-time recognition of system functionalities including obfuscated and distributed ones.
In this paper, we perform cluster analysis at the level of activity trees, which provide highly semantic representation of malicious behavior. Our clustering approach is evaluated with corpus of real malware families. Results demonstrated that the used activity tree domain enables excellent behavior clustering and provides better and more consistent results compared to antiviruses vendors.