10.05.2018 | Ausgabe 1/2019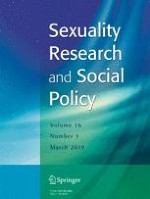 Tolerance, Acceptance, or Ambivalence?: Changing Expressions of Attitudes towards Homosexuals in Barbados
Zeitschrift:
Autoren:

Alana Griffith, Peter Wickham
Abstract
This article sought to establish whether the perception and understanding of homosexuality among Barbadians has changed. It specifically investigated whether there was evidence of change in attitudes to different categories of relationships with homosexuals, Barbadians' knowledge of the meaning of homosexual, their self-described attitude to homosexuals, and their attitude on the decriminalization of same-sex intimacy. The analysis utilized secondary data from two national surveys on attitudes to homosexuality conducted in 2004 and 2013. A two-tailed two-proportion z test was used to determine whether the observed changes were significant with
p
 < .05. It was found that compared with 2004, significantly more people understood homosexual to mean someone liking the same sex. Significant changes were also observed in levels of acceptance and support for decriminalization of same-sex intimacy. There were significant declines in persons indicating that they would prefer not to have homosexuals as friends, family, children, employee, employer, teacher, or public official. This shift was accompanied by significant changes in those uncertain about they felt about such relationships. Only in the categories of family and child was there a significant increase in respondents indicating they would not mind having such a relationship. The results demonstrate that Barbadian's level of acceptance increased although not to the point of supporting decriminalization of same-sex intimacy. The paper assesses the implications of the findings for the possible policy change within the country.