01.04.2008 | Ausgabe 2/2008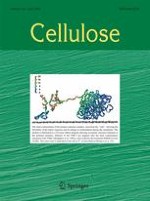 Topochemical modification of cotton fibres with carboxymethyl cellulose
Zeitschrift:
Autoren:

Lidija Fras Zemljič, Per Stenius, Janne Laine, Karin Stana-Kleinschek
Wichtige Hinweise
Lidija Fras Zemljič and Karin Stana-Kleinschek are the members of the European Polysaccharide Network of Excellence (EPNOE).
Abstract
Adsorption of carboxymethyl cellulose (CMC) as a method to introduce charged (ionizable) groups onto cellulose cotton fibre surfaces was investigated. The method was based on application of a previously published method used for wood fibres. The amount of adsorbed ionizable groups was determined indirectly by analysis of CMC in solution by the phenol–sulphuric acid method and directly by conductometric titration of the fibres. Results from the two methods correlated well. The molecular weight and purity of the CMC had an influence on its adsorption onto cotton; high molecular weight CMC was preferentially adsorbed. The adsorbed charge correlated linearly with the amount of CMC adsorbed. The total charge of the cotton fibres could be increased by more than 50% by adsorption of CMC. It is expected that this modification procedure can be used in a wide spectrum of practical applications.