2006 | OriginalPaper | Buchkapitel
Topographic and Geodetic Research by GPS, Echosounding and ERS Altimetric, and SAR Interferometric Surveys during Ukrainian Antarctic Expeditions in the West Antarctic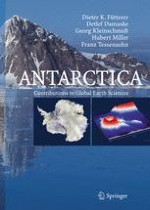 Erstes Kapitel lesen
Autoren: Rudolf Greku, Gennady Milinevsky, Yuriy Ladanovsky, Pavel Bakhmach, Tatyana Greku
Verlag: Springer Berlin Heidelberg
The region of the Ukrainian Antarctic geodetic and topographic surveys is the transition zone, which includes the Antarctic Peninsula with ice streams; large longitudinal fractures known as the Grandidier, Penola and Bransfield straits, separating the island part of the wide shelf from the Peninsula; small archipelagos appear as a result of the ancient ice shelf movement overlapping tectonic processes; and the open sea of the Pacific Ocean's south-eastern margin. Such physiographic diversity of the region causes a necessity to use different geodetic research methods. The Ukrainian Vernadsky Station (former British Faraday Station) is located at the middle part of the region on the Galindez Island of the Argentine archipelago. Following investigations in this area were carried out under the auspices of the Ukrainian Antarctic Centre within the Ukrainian Antarctic Research State Program for the SCAR GIANT (Geodetic Infrastructure of Antarctic), ANTEC (Neotectonics of Antarctic) and IBCSO (International Bathymetric Chart of the Southern Ocean) Projects:
Several days duration seasonal GPS observations at the "SCAR GPS 2002" site on Galindez Island;
Repeated GPS observations on the British triangulation markers and extension of the geodetic network on the islands;
Large-scale mapping of islands' topography and terrestrial photogrammetry survey of the island ice cliffs;
Echosounding of the Argentine archipelago's seabed in unsurveyed shallow water;
Mapping of the Flask Glacier ice stream of the Antarctic Peninsula using ERS Synthetic Aperture Radar (SAR) interferometry data;
Geoid determination of the Bellingshausen Sea based on altimeter data for geological purposes.
As a result of the research different maps of the bottom topography by echosoundings, of the island relief by GPS observations, of topographic features of the moving glacier by the satellite data were created. The mass balance of the island's ice cap by unconventional terrestrial photogrammetric technique was also studied.