01.03.2015 | Original Paper | Ausgabe 3/2015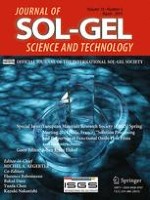 Topotactic reductive fluorination of strontium cobalt oxide epitaxial thin films
Zeitschrift:
Autoren:

Tsukasa Katayama, Akira Chikamatsu, Yasushi Hirose, Tomoteru Fukumura, Tetsuya Hasegawa
Abstract
Since the discovery of oxyfluoride cuprate superconductors, many efforts have been made to search for new transition-metal oxyfluoride compounds. Recently, the topotactic fluorination reaction using polyvinylidene fluoride (PVDF) has gained attention because of the low-temperature synthesis of oxyfluorides. In this study, we report the fabrication of SrCoO
x
F
y
epitaxial thin films via topotactic fluorination of SrCoO
2.5
precursor films with PVDF. X-ray diffraction analysis showed that the SrCoO
x
F
y
film, with an anion-vacant perovskite structure, was obtained by fluorination at 150 °C and that the in-plane lattice constant was completely dependent on the substrate. Energy dispersive X-ray spectrometry revealed that the chemical composition of the fluorinated film was SrCoO
1.9±0.4
F
0.5±0.1
and X-ray photoemission spectroscopy showed that the Co ions had a mixed valence state of 2+ and 3+. This valence state was smaller than that in the SrCoO
2.5
precursor film, indicating that PVDF acted as a reductive fluorinating agent for the SrCoO
2.5
film. Moreover, the SrCoO
1.9±0.4
F
0.5±0.1
film did not exhibit ferromagnetism even at 10 K, suggesting the presence of an antiferromagnetic interaction between the Co ions.