2011 | OriginalPaper | Buchkapitel
Tornado Climatology and Society's Tornado Risk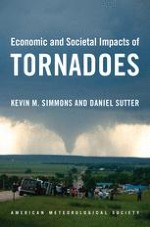 Erstes Kapitel lesen
Autoren: Kevin M. Simmons, Daniel Sutter
Verlag: American Meteorological Society
Tornado climatology refers to the
frequency
of tornadoes. Climatology is not social science, so it may seem odd for economists to begin a book on the economic and societal impacts of tornadoes with climatology. But many of the decisions people can make to reduce their vulnerability to tornadoes depend on an understanding of the likelihood of tornadoes, or climatology. Consider the following:
Manufactured housing exhibits vulnerability to tornadoes, which the data will validate. Yet manufactured housing represents an affordable and increasingly comfortable housing option for many Americans (Beamish et al. 2001). How is a family concerned about tornado risk to decide whether to live in a mobile home? Are residents of tornado-prone states who nonetheless choose to live in a manufactured home simply ignoring or failing to perceive and appreciate weather risk, or balancing other important life goals against safety?
Wind engineers have developed new shelters capable of protecting against even the most powerful tornadoes. The Federal Emergency Management Agency (FEMA) issued performance standards for new tornado shelters in 1998 and included safe rooms in its (now-abandoned) National Mitigation Strategy. Tornado shelters and safe rooms are not cheap, and their benefits are tied to the risk of tornadoes. Are shelters worth the cost? An informed decision about shelter purchase requires data on tornado risk and how this risk varies across the nation.
The nation also invests in tornado research and technology, with the ultimate goal of helping the National Weather Service (NWS) forecast and warn for tornadoes. For example, in the 1990s, the United States invested $1.2 billion on a nationwide network of Doppler weather radars (the WSR-88D, or NEXRAD network). One of the expected benefits of Doppler radars was improved tornado warnings. In 2009, NOAA undertook a research study on tornadoes called VORTEX II (Verification of the Origins of Rotation in Tornadoes Experiment; see page 3). At a cost of $10 million, the project equipped 40 vehicles to intercept and observe the entire life cycle of a tornadic thunderstorm. Ultimately, the nation's return on these investments depends on the rate of tornado activity. The greater the threat, the greater the number of lives that can be saved by investments in research and technology to reduce the lethality of tornadoes.