2020 | OriginalPaper | Buchkapitel
7. Torsion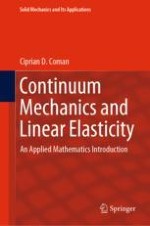 Erstes Kapitel lesen
Autor: Ciprian D. Coman
Verlag: Springer Netherlands
Abstract
A simple example of anti-plane problem has already been discussed in some detail earlier in Chap.
5
(Example 5.2, as well as Exercises 5.11 and 5.12). We now consider a more elaborate anti-plane situation related to the torsional deformation of long and slender cylinders. Our treatment relies on the displacement formulation of the problem (based on the Navier–Lamé system) together with a semi-inverse approach. It is possible to give a more direct solution to the torsion problem by circumventing the need for 'guessing' the form of the displacement field. Such a treatment was first reported in the literature by the Italian engineer R. Baldacci (1957), who used the Beltrami–Michell equations as the starting point in his analysis; an expanded version of his original solution can be found in Baldacci (Scienza delle Costruzioni, 1983) [
1
] (pp. 200–238). L. Solomon (Élasticité Lineaire, 1968) [
2
] has also pursued a similar direct route, albeit his work was partly based on the use of complex variables (see pp. 140–183 of his book).