2006 | OriginalPaper | Buchkapitel
Total and Updated Lagrangian Geometrically Exact Beam Elements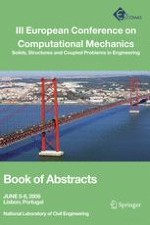 Erstes Kapitel lesen
Autoren: Jari Mäkinen, Heikki Marjamäki
Verlag: Springer Netherlands
In the paper [
1
] is given finite element implementations for a geometrically exact beam element with different updating procedures. The formulations are named Eulerian, total Lagrangian, and updated Lagrangian. The updated Lagrangian formulation can bypass the well-known singularity problem of the total Lagrangian formulation which is singular at the rotation angle 2π and its multiples. The updated Lagrangian formulation has additional benefits such as a fully symmetrical stiffness tensor when applying a conservative loading. In addition, any time integration algorithm can be used because the changes of the rotation vector belong to the same tangent space of the rotation manifold SO(3). The updated Lagrangian formulation requires some secondary storage variables for the curvature and rotation vectors, at every spatial integration point.
A total Lagrangian formulation in static cases with the consistent stiffness tensor is given in [
2
]. Generally, a total Lagrangian formulation in a static case with a conservative loading has an important property that is path-independence, whereas an updated Lagrangian formulation is path-dependent. Lagrangian formulations have a consistent interpolation while in Eulerian formulations the interpolation has to apply within an approximate, inconsistent, way. As we have noted earlier, total Lagrangian formulations have singularity at the rotation angle 2π and its multiples that are a remarkable restriction, especially in dynamic cases.
We consider a total Lagrangian updating formulation [
3
] for a material rotation vector and compare it with an updated Lagrangian formulation. The total Lagrangian formulation preserves the pathindependence and it can be regarded as a consistent updating formulation. The major drawback is the singularities at the rotation angle 2π and its multiples, but we overcome this difficulty by the complement rotation vector that is the change of parametrization. Numerical examples are also given.