2021 | OriginalPaper | Buchkapitel
2. Toward a Contemporary Concept of Management Control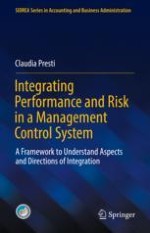 Erstes Kapitel lesen
Autor: Claudia Presti
Abstract
In order to identify how the integration between performance management and risk management could take place in the context of management control systems, it is important to retrace the extensive and diversified literature on management control systems.
The numerous studies that have been published in the last 60 years have extensively examined the different components of these systems, and how they have evolved over time to adapt to changes of the external environment and to changes of organization's structures and business processes.
Section
2.1
outlines how the different connotations of the term "control" have evolved since the development of the management control system. The progressive attention on performances and the evolution of risk management find their roots in how the mainly accepted connotation of the term "control" have changed over time in the academic realm. Then, the evolution of management control is described following a historical path. Section
2.2
outlines the management control literature's main trends that led to consider it as a package. Lastly, Sect.
2.2
contains various comments about the expanded boundaries of the management control system as a package, underlying its relationship with the performance management system.