01.10.2016 | Ausgabe 4/2016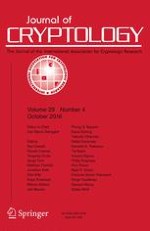 Toward a Game Theoretic View of Secure Computation
Zeitschrift:
Autoren:

Gilad Asharov, Ran Canetti, Carmit Hazay
Wichtige Hinweise
Communicated by Tal Rabin.
Gilad Asharov: The work was done while the author was a Ph.D. student at Department of Computer Science, BarIlan University, Israel, and was supported by the European Research Council under the European Union's Seventh Framework Programme (FP/2007-2013) / ERC Grant Agreement n. 239868.
Ran Canetti: Supported by the Check Point Institute for Information Security, BSF ISF, and Marie Curie grant, as well as the NSF MACS project CNS-1413920.
Abstract
We demonstrate how Game Theoretic concepts and formalism can be used to capture cryptographic notions of security. In the restricted but indicative case of two-party protocols in the face of malicious fail-stop faults, we first show how the traditional notions of secrecy and correctness of protocols can be captured as properties of Nash equilibria in games for rational players. Next, we concentrate on fairness. Here we demonstrate a Game Theoretic notion and two different cryptographic notions that turn out to all be equivalent. In addition, we provide a simulation-based notion that implies the previous three. All four notions are weaker than existing cryptographic notions of fairness. In particular, we show that they can be met in some natural setting where existing notions of fairness are provably impossible to achieve.