26.09.2018 | Ausgabe 2/2019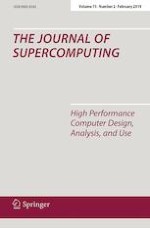 Toward maximization of profit and quality of cloud federation: solution to cloud federation formation problem
Zeitschrift:
Autoren:

Benay Kumar Ray, Avirup Saha, Sunirmal Khatua, Sarbani Roy
Abstract
The emergence of cloud computing has led to an astronomical growth in the computing services provided by vendors over the cloud interface. This has led to the paradigm of cloud federations where a group of CSPs collaborate to form a federation for seamless provisioning of resource requests. In this paper, cloud federation formation framework is modeled as a multi-objective optimization problem with the trade-off between profit and QoS. Federation formation algorithms try to maximize the federation profit while maintaining a balance between the QoS and the profit of the members of the federation. We have applied
Linear Scalarization
as well as
\(\varepsilon \)
-
constraint
method to find the pareto-optimal solution to this multi-objective optimization problem. A heuristic-based algorithm for cloud federation formation following the integer linear program is proposed. We perform extensive experiments to investigate the performance of our proposed mechanism and show that our proposed mechanism yields optimized solution to the general problem of profit/QoS trade-off.