2018 | OriginalPaper | Buchkapitel
Towards a Contextual and Semantic Information Retrieval System Based on Non-negative Matrix Factorization Technique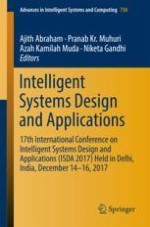 Erstes Kapitel lesen
Autoren: Nesrine Ksentini, Mohamed Tmar, Faïez Gargouri
Abstract
With the fast speed of technological evolution, information retrieval systems are trying to confront the large amount of textual data in order to retrieve pertinent information to meet users needs or queries. Information retrieval systems depend also on the user's query who often finds difficulty to express his need.
To resolve these problems, we propose, in this paper, a new approach that provides a contextual and semantic information retrieval system.
Our proposed system is based firstly on NNMF (Non-negative Matrix Factorization) technique for data analysis in order to present textual data with new and small representations and to organize this data into categories. Secondly, our system try to how ameliorate the user's need with new semantic keywords that keeping the same context of the original query, by exploiting obtained results by the used data analysis technique and the
LSM
method that defines semantic relationships between terms.
Experimental results performed on the ClefEhealth-2014 database demonstrate the performance of our proposed approach on large scale text collections.