05.01.2017 | Theoretical / Philosophical Paper | Ausgabe 2/2017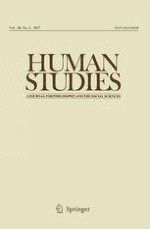 Towards a Theory of Toys and Toy-Play
Zeitschrift:
Autor:

Alan Levinovitz
Abstract
The distinction between toys and games is built into grammar itself: one plays games but plays
with
toys. Although some thinkers have recognized the importance of the distinction, their insights are often contradictory and vague, and the word toy is used unsystematically to refer to a wide range of objects and associated play-activities. To remedy this problem a phenomenological approach to play could be helpful, but those that exist rarely discuss the difference between forms of play, instead using playfulness as ambiguous shorthand for freedom from rules. Beginning with Charles Baudelaire's 1853 essay, "The Philosophy of Toys," the author surveys and synthesizes various theories of toys to produce a detailed account of those objects that conduce to toy-play, focusing on insignificance as the defining phenomenological quality of toys. He then uses speech act theory to offer a definition of a toy—
an invitation to play with its identity
—and explores how the existence of such an invitation depends not only on the intrinsic qualities of the object of play, but also its context and the identity of the player.