2019 | OriginalPaper | Buchkapitel
Towards an Ecosystem Approach to Environmental Impact Assessment for Deep-Sea Mining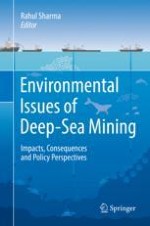 Erstes Kapitel lesen
Autoren: Kate J. Thornborough, S. Kim Juniper, Samantha Smith, Lynn-Wei Wong
Abstract
There is growing recognition that a clean energy, low carbon future will require additional metals to be inserted into the world economy. This has led to increased interest in obtaining these metals from the seafloor of the deep ocean, with many proponents of the seafloor mineral industry claiming environmental and social advantages such as minimal waste, no disruption of indigenous populations, no need for deforestation including large areas of rainforest, and multi-metal and/or high-grade deposits. With interest in mining the deep seabed on the rise, an increasing number of exploration licences and contracts granted, and one mining project expected to be soon ready to commence operations, the deep seabed mineral industry is emerging, bringing with it a recognised need for thoughtful environmental assessment and management. This chapter examines the current state of knowledge of the services provided by ecosystems associated with deep-sea mineral deposits and how this knowledge can support the future inclusion of ecosystem services in environmental impact assessments (EIAs) for individual mining operations and in the regional-scale planning of resource extraction and conservation measures.
Faced with an incomplete understanding of deep-sea environments and the management strategies that could be deployed to minimise ecological losses from mining operations, scientists have expressed concern about the potential for related species extinctions, changes in ecosystem structure and function, and a loss of deep-sea ecosystem services (McGeoch et al.
Diversity and Distributions, 16
(1), 95–108, 2010; Van Dover
Marine Environmental Research, 102
, 59–72, 2014; Van Dover et al.
Nature Geoscience, 10
(7), 464–465, 2017; Folkersen et al.
Marine Policy, 94
, 71–80, 2018). The environmental costs of extracting deep-sea mineral resources have been the subject of an increasing number of studies, yet remain difficult to quantify (Thurber et al.
Biogeosciences, 10
(11), 18193–18240, 2014; Jobstvogt et al.
Ecological Economics, 97
, 10–19, 2014; Folkersen et al.
Marine Policy, 94
, 71–80, 2018). Regulators of future deep-sea mining activities have been developing rules, regulations, and guidelines aimed at the responsible use of seabed mineral resources and that conservation goals are met. Key players in the seabed mineral industry have committed to a precautionary and ecosystem-based approach to environmental management that aims to mitigate the potential impacts of mining. Part of this approach includes employing best environmental practice and tools used in environmental management, including robust EIAs and adaptive management.