2018 | OriginalPaper | Buchkapitel
Towards Automated Testing of the Internet of Things: Results Obtained with the
TESTAR

Tool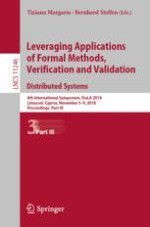 Erstes Kapitel lesen
Autoren: Mirella Martínez, Anna I. Esparcia-Alcázar, Tanja E. J. Vos, Pekka Aho, Joan Fons i Cors
Abstract
As the Internet of Things (IoT) becomes a reality, the need of ensuring the security and reliability of massively interconnected devices becomes a pressing necessity. A means of satisfying this need would be automated testing of IoT devices; however, this presents many difficulties, such as the lack of standards, multitude of manufacturers, restricted capabilities (such as power), etc.
In this work we present the first results on using
TESTAR
tool for automating IoT testing of smart home devices.
TESTAR
is a tool for automated testing at the Graphical User Interface (GUI) level of an application. The tool uses the Accessibility API the obtain information about the GUI and derive actions that can be executed in test sequences. Many IoT systems use the REST API to access the resources that compose the system. Consequently, this paper looks into IoT system testing as a natural field for extending the
TESTAR
philosophy from GUI (Accesibility) to IoT (REST) APIs.
The results show the potential of
TESTAR
in this new environment.