28.05.2019 | Schwerpunktbeitrag | Ausgabe 2/2019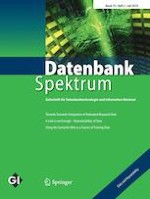 Towards Semantic Integration of Federated Research Data
Zeitschrift:
Autoren:

Javad Chamanara, Angelina Kraft, Sören Auer, Oliver Koepler
Abstract
Digitization of the research (data) lifecycle has created a galaxy of data nodes that are often characterized by sparse interoperability. With the start of the European Open Science Cloud in November 2018 and facing the upcoming call for the creation of the National Research Data Infrastructure (NFDI), researchers and infrastructure providers will need to harmonize their data efforts. In this article, we propose a recently initiated proof-of-concept towards a network of semantically harmonized Research Data Management (RDM) systems. This includes a network of research data management and publication systems with semantic integration at three levels, namely, data, metadata, and schema. As such, an ecosystem for agile, evolutionary ontology development, and the community-driven definition of quality criteria and classification schemes for scientific domains will be created. In contrast to the classical data repository approach, this process will allow for cross-repository as well as cross-domain data discovery, integration, and collaboration and will lead to open and interoperable data portals throughout the scientific domains.
At the joint lab of L3S research center and TIB Leibniz Information Center for Science and Technology in Hanover, we are developing a solution based on a customized distribution of CKAN called the Leibniz Data Manager (LDM). LDM utilizes the CKAN's harvesting functionality to exchange metadata using the DCAT vocabulary. By adding the concept of semantic schema to LDM, it will contribute to realizing the FAIR paradigm. Variables, their attributes and relationships of a dataset will improve findability and accessibility and can be processed by humans or machines across scientific domains. We argue that it is crucial for the RDM development in Germany that domain-specific data silos should be the exception, and that a semantically-linked network of generic and domain-specific research data systems and services at national, regional, and organization levels should be promoted within the NFDI initiative.