2015 | OriginalPaper | Buchkapitel
Towards Truly Elastic Distributed Graph Computing in the Cloud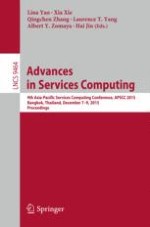 Erstes Kapitel lesen
Autoren: Lu Lu, Xuanhua Shi, Hai Jin
Abstract
Elasticity is very important to the scale-out distributed systems running on today's large-scale multi-tenant clouds, regardless public or private. An elastic distributed data processing system must have the capability of: (1) dynamically balancing the computing load among workers due to their performance heterogeneity and dynamicity; (2) fast recovering the lost memory state of failure workers with acceptable overheads during the regular execution.
Unfortunately, we found that the design of the state-of-the-art distributed graph computing system only works well in small sized dedicated clusters. We implement a distributed graph computing prototype,
X-Graph
, and demonstrate the capabilities of being elastic in three ways. First, we present
menger
, a novel two-level graph partition framework, which further splits one worker-level partition into several sub-partitions as the basic migration units, and each has the "migration affinity" with one of the other workers. Second, we implement a dynamical load balancer based on
menger
, which prefers the worker that has the affinity of the sub-partition to be migrated as the destination, and completely avoids the costly sophistical graph re-partitioning algorithms. Third, we implement a differentiated replication frame-work, which supports parallel recovery for lost partitions just like general-purpose dataflow systems.