09.12.2016 | Ausgabe 2-3/2017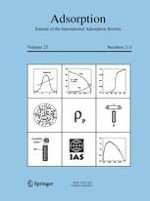 Toxic gas sensing on nanoporous carbons
Zeitschrift:
Autoren:

Nikolina A. Travlou, Teresa J. Bandosz
Abstract
Activated carbons, either synthetic, developed in our laboratory, or commercial were prepared or further modified, in order to introduce specific heteroatoms such as oxygen, nitrogen and sulfur to their matrix. Chips with thin layers of active materials were prepared and used for ammonia or hydrogen sulfide sensing. They showed high sensitivity and their response was selective. They also responded linearly to changes in various ammonia concentrations. The incorporation of specific heteroatoms to the carbons matrices was an effective means to control the type of the charge carriers, and thus the electronic and transport properties. Depending on the specific chemical arrangement of heteroatoms, materials exhibiting
n-
or
p-
type conduction were obtained. Pyridines and nitropyridines played an important role. A small amount of ammonia was oxidized to NO
2
on the surface of sulfur and nitrogen co-doped carbons, due to their ability to generate superoxide ions. When adsorbed in the pore system of the carbons, it affected the electrical signal due to an increase in the population of holes as charge carriers. The synergistic effect between the heteroatoms greatly enhanced the electrical response of the chips. The mechanism governing the reversible sensing involved several processes, including specific interactions between NH
3
and surface functional groups, pore-filling with NH
3
/NO
2
, and electron–hole conductivity. The structural and chemical features of the carbons were found to act either synergistically or competitively. Surface acidity, by enhancing the affinity of the carbons towards NH
3
adsorption, contributed to an ammonia selective detection.