2012 | OriginalPaper | Buchkapitel
7. Toxic Metals Accumulation, Tolerance and Homeostasis in Brassicaoilseed Species: Overview of Physiological, Biochemical and Molecular Mechanisms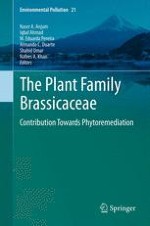 Erstes Kapitel lesen
Autoren: Vinay Kumar, Monika Mahajan, Sudesh K. Yadav
Verlag: Springer Netherlands
Abstract
Brassicaoilseed and related cruciferous crop species of economic importance are identified as metal hyper accumulator with high biomass. These species possess genetically inherited traits of metal hyper accumulation and tolerance. They have been reported to store metal in their upper ground part with the character of metal tolerance. These species has been adapted with various mechanisms to counter metal toxicity. This adaption attracted everyone to understand range of mechanism in these plants with relation to accumulation of metal ion and tolerance to nullify metal ion mediated toxicity. Toxic metal influenced the various physiological processes such as growth, photosynthesis, ion and water uptake and nitrate assimilation in plant. At the cellular level, they have been reported to cause damage including blocking functional groups of enzymes, denaturing or inactivating enzymes, disturbance in the function of polynucleotide, transport mechanism for nutrient ions and disrupting cell and organelle membrane integrity. These symptoms might occur due to interaction of biomolecules with excessive amount of toxic metals. In addition, toxic metal excess stimulates the formation of free radical and reactive oxygen species.
Brassica
species and related cruciferous crop evolved to survive and thrive in metal toxicity and adapt a range of mechanisms that may be involved in the detoxification and tolerance. Plant antioxidant system scavenged free radicals ion induced by toxic metal exposure. Such tolerance has also been related to increased level of antioxidant molecules and detoxifying enzymes in response to toxic metal ions. Plants are synthesizing a variety of metal chelating legends including phytochelatins, metallothioneins and organic acids. These legends ensure metal detoxification by complexation and vacuolar sequestration. A whole range of metal transporter families have been identified in plant that could play a key role in tolerance and metal homeostasis. These plants possess genes for resistance to toxic effects of a wide range of metals. Apart from tolerance to metal toxicity, these plants also have fine balance of metals that are regulated either by preventing or reducing the entry into the cell or through efflux mechanisms. So,
Brassica
utilized the mechanism of accumulation, translocation and uptake of toxic metal more efficiently for tolerance.
Brassica
has been proposed as a natural environmentally safe option to clean contaminated sites. These species are well adapted to a range of environmental conditions and suitable for phytoremediation due to adequate accumulation with highly regulated translocation and uptake of toxic metal. These species are likely source of genes for phytoremediation. These plants will be playing a key role in phytoremediation technology and can be used for remediation of polluted areas. The adaptation ability of
Brassica
to toxic metals can be utilized to understand the mechanism of tolerance to toxic metals and development of toxic metal restricted plants in metalliferous soil.