01.06.2016 | Original Article | Ausgabe 11/2016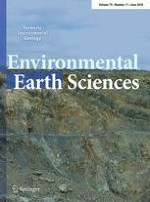 Toxicity of atrazine to
Scenedesmus quadricauda

under different nitrogen concentrations
Zeitschrift:
Autoren:

Mathias Ahii Chia, Suleiman Dauda, Talatu Zainab Jibril
Abstract
Herbicides constitute a serious environmental problem because they can affect nontarget organisms. The toxicity of these chemicals depends on their interaction with prevailing environmental conditions. In this study, the effect of atrazine (ATR) (0.05, 0.5 and 5.0 mg L
−1
) at different nitrogen concentrations (1.8 × 10
−4
and 1.8 × 10
−5
M) on the growth, morphological variation, biomass production and antioxidant enzyme activities of the freshwater microalga
Scenedesmus quadricauda
was investigated. Compared with the control, growth rate, dry weight and cell density were lower under limited nitrogen with or without ATR exposure. The proportion of multi-celled coenobial structures was generally higher in the control and ATR treatments with replete (1.8 × 10
−4
M) nitrogen than that under limited nitrogen. Catalase and peroxidase activities decreased under nitrogen limitation and atrazine exposure. In conclusion, our results revealed that nitrogen levels influence the toxicity of atrazine to
S. quadricauda
and possibly other algae in aquatic ecosystems.