2018 | OriginalPaper | Buchkapitel
5. Toxicological Impact of Carbon Nanomaterials on Plants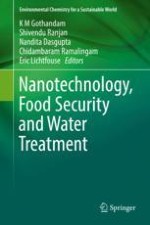 Erstes Kapitel lesen
Autor: Prakash M. Gopalakrishnan Nair
Abstract
The fast growth of nanotechnology has resulted in the production and use of engineered nanoparticles with unique physical and chemical properties in various fields. The increased utilization of engineered nanoparticles enhances the risks associated with their release into the environment. The smaller size and modified physico-chemical properties raise concerns about their entry and adverse effects in plants. For instance, studies have shown that nanomaterials can be absorbed and translocated within plants. Since plants represent a major component of the ecosystem, the accumulation of engineered nanoparticles in plants is a threat to plants and the food chain.
This chapter reviews phytotoxic effect of carbon nanomaterials under
in vitro
and in vivo exposure conditions. Carbon nanomaterials are widely incorporated in commercial products used in agriculture. Recent studies have been conducted to test the toxic effects of carbon nanomaterials either alone or in combination with other chemicals in plants. Results reveal that the effect of carbon nanomaterials in plants are intricate and challenging and vary between different plant species, type of the nanomaterial and concentrations tested. Carbon nanomaterials were evidenced to penetrate through seed coats, enter into the plant cells and translocate into different plant parts. Exposure to carbon nanomaterials decreases seed germination, root growth and changes the roots architecture. Carbon nanomaterials inhibits seedling growth and changes morphological, physiological, biochemical, molecular, nutritional and genetic levels in plants. Modulation in the expression of genes related to cell division and plant development were also reported.