2016 | OriginalPaper | Buchkapitel
Trace Element Composition of Poplar in Mongolian Cities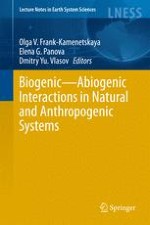 Erstes Kapitel lesen
Autoren: Natalia E. Kosheleva, Ivan V. Timofeev, Nikolay S. Kasimov, Tatiana M. Kisselyova, Alexey V. Alekseenko, Olga I. Sorokina
Abstract
Purpose.
The aim of our work was to assess changes in the trace element composition of poplar leaves in large cities and mining centers of Mongolia. The objectives of the study included: (1) to reveal the biogeochemical background features and changes in the trace element composition of poplar leaves in urban and mining landscapes; (2) to determine the degree of technogenic disturbance in the chemical composition of urban vegetation; and (3) to assess the functioning and ecological status of poplars under technogenic impact.
Materials and methods.
Poplar hybrids, which compose about 75 % of the urban woody plantations, were sampled in Ulaanbaatar (77 samples) in the mid-summer of 2008, Erdenet (30 samples) in 2011, Darkhan (19 samples) in 2011, and Sharyngol (21 samples) in 2013. Bulk concentrations of 54 heavy metals in the samples of the dry plant material were measured by inductively coupled plasma mass spectrometry (ICP-MS) on Elan-6100 and Optima-4300 analyzers.
Results and discussion.
The local biogeochemical background of the Mongolian cities under consideration differs from the mean global values in the higher concentrations of Cd, Sr, As, and Zn. The concentrations of Be, V, Pb, Cr, and Ni in plants of the background areas are lower than their global values. The maximum coefficients of the biogeochemical transformation,
Z
v
, were revealed in Ulaanbaatar. In the other cities, the values of
Z
v
in the industrial zones were higher than those in the residential zones by 1.5–2 times. The trace element ratios characterizing the balance in the provision of metabolic processes confirm the conclusion about the satisfactory state of the urban trees.