01.08.2013 | Original Article | Ausgabe 7/2013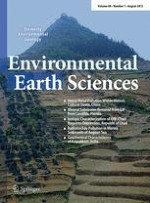 Trace elements and their correlations in hand-dug wells in a laterite environment in a semi-arid region: case study of Tikaré, Northern Burkina Faso
Zeitschrift:
Autoren:

Julien Nikiema, Walter Gläßer, Ronald Krieg, Mario Schirmer
Abstract
In many regions of the world and especially in arid and semi-arid areas, groundwater is the major source of drinking water for most of the rural population. The main reason is probably its accessibility through hand-dug wells. However, the resource is supplied in most of the cases to the population as raw water because groundwater is assumed to be safe. In that situation, the water chemistry and quality is usually not well known. Therefore, a study in Tikaré, northern Burkina Faso (West Africa) was carried out analysing fourteen trace elements to characterise their concentration patterns and correlations. The assessment of the quality and the chemistry of water resources is also done in order to forecast if any danger to the population might exist regarding the trace elements. The samples analysed were from 22 wells, 2 boreholes and 1 surface water location (small dam) in a laterite environment. This dam is recharging water to the underlying aquifer during and short after the rainy season. It was found that the most dominated trace elements are Fe and Mn. In summary, nearly all the studied trace elements were below the recommended limit in the drinking water guidelines of the WHO (Guidelines from Drinking Water Standards,
1984
). The main source of the trace elements in groundwater seems to be the bedrock dominated by volcano-sedimentary schist and basalt. At least for the analysed area, with only limited traditional mining activities close to the sampling zone, there is no danger for humans to consume the extracted water regarding the analysed trace elements. Some good relationships were also found between some trace elements and major ions.