2014 | OriginalPaper | Buchkapitel
15. Tracking Control of 1D Scalar Conservation Laws in the Presence of Shocks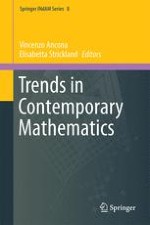 Erstes Kapitel lesen
Autoren: Rodrigo Lecaros, Enrique Zuazua
Abstract
We analyze a model tracking problem for a 1D scalar conservation law. It consists in optimizing the initial datum so to minimize a weighted distance to a given target during a given finite time horizon.
Even if the optimal control problem under consideration is of classical nature, the presence of shocks is an impediment for classical methods, based on linearization, to be directly applied.
We adapt the so-called alternating descent method that exploits the generalized linearization that takes into account both the sensitivity of the shock location and of the smooth components of solutions. This method was previously applied successfully on the inverse design problem and that of identifying the nonlinearity in the equation.
The efficiency of the method in comparison with more classical discrete methods is illustrated by several numerical experiments.