15.11.2019 | Methodologies and Application | Ausgabe 13/2020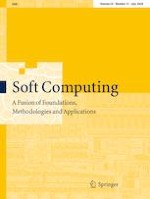 Trade credit policy of an inventory model with imprecise variable demand: an ABC-GA approach
Zeitschrift:
Autoren:

Prasenjit Pramanik, Manas Kumar Maiti
Wichtige Hinweise
Publisher's Note
Springer Nature remains neutral with regard to jurisdictional claims in published maps and institutional affiliations.
Abstract
In this research work, an inventory model with fuzzy promotional effort induced dynamic demand under two level partial trade credit policy has been developed in an imprecise planning horizon. Here, it is assumed that in the planning horizon a retailer completed a finite number full cycles. In each of the retailer's cycle, a wholesaler offers a credit period to the retailer on the full purchased amount and in turn the retailer offers a credit period to its customers on a part of his/her purchased amount. The imprecise marketing demand is influenced by the retailer's fuzzy promotional effort, customers' credit period, customers' credit amount and retail selling price. Goal of this study is to find the optimal business strategy for the retailer with respect to his/her total fuzzy financial gain from the system. Due to imprecise nature of the demand, the problem is mathematically represented following fuzzy differential equation and fuzzy Riemann integration and alpha-cut of the entire fuzzy gain from the system is derived. Its graded mean integration representation is computed and optimized with respect to customer's credit amount credit period, and retailer's order quantity for most appropriate marketing decision. Hence, the problem reduced to a multivariate crisp optimization problem and a heuristic, multichoice artificial bee genetic algorithm (MCABGA) has been proposed for it. The efficiency of MCABGA is tested against some other existing artificial bee colony variants using a list of benchmark test functions available in the literature. The model is illustrated with some hypothetical test problems and some managerial insights are outlined. Finally, a conclusion is drawn and some future research directions are proposed.