2015 | OriginalPaper | Buchkapitel
4. Traditional Controllers: Model Based Design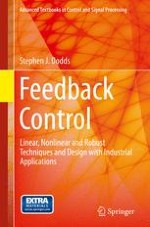 Erstes Kapitel lesen
Autor: Stephen J. Dodds
Verlag: Springer London
Abstract
This chapter commences with the simplest feedback control systems to ensure continuity and provide some revision for readers who have only undertaken one year of undergraduate study of linear control systems. As the chapter progresses, various performance demands are introduced together with increases in the plant order. Controllers are selected through the needs of application examples. At each stage, features, either in the control structure or design methodology, are introduced that meet the specification. With this approach, the reader will fully understand the features and be able to select the simplest suitable traditional controller for plants of the first or second order and calculate the controller gains, based on pole assignment, to meet a given performance specification in terms of settling time, steady state error and sensitivity/robustness.
The behaviour of linear systems of the third and higher order is studied in preparation for designing control systems for second-order plants using traditional controllers containing integral terms and the more general control systems of Chap.
5
. The author's settling time formulae are derived for use in conjunction with the pole assignment design of systems of arbitrary order.
Finally, connections between performance specifications in the time domain and the frequency domain are established.