2005 | OriginalPaper | Buchkapitel
Training and Development for High Performance: Supporting Partnership or Elites?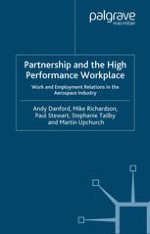 Erstes Kapitel lesen
Autoren: Andy Danford, Mike Richardson, Paul Stewart, Stephanie Tailby, Martin Upchurch
Verlag: Palgrave Macmillan UK
Work participation, flexibility and regular skill acquisition together constitute the core employee dimensions of the high performance workplace. Systematic skills training and career progression are therefore important facets of the necessary development of human capital in these work contexts (Appelbaum et al., 2000; Chaykowski and Gunderson, 2002; Parks, 1995). Training and development practices have sometimes been regarded as sources of enrichment and empowerment at work in that, to adopt a paraphrase 'learning is power', wellfunded, structured training programmes can generate more autonomous, polyvalent knowledge workers and can catalyze shifts in the power imbalance between managers and employees (Keep and Rainbird, 2000). It is for these reasons that the concept of 'lifelong learning' (and the provision of opportunities for personal development through skill acquisition) has also become central to workplace partnership (TUC, 1999). In this chapter, we investigate the character of training and development at the two case study plants and the extent to which different groups of employees do gain a sense of empowerment.