2013 | OriginalPaper | Buchkapitel
7. Transdisciplinary Approaches to Engineering R&D: Importance of Understanding Values and Culture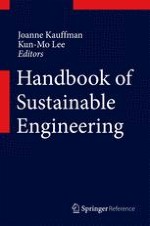 Erstes Kapitel lesen
Autor: Prof. AlanColin Brent
Verlag: Springer Netherlands
Abstract
The emerging classification of Sustainability-oriented Innovation Systems places an emphasis on the social elements of change, as well as the technological. However, sustainability-oriented problems are too vast for one person or discipline to comprehend; thus people tend to want to collaborate, meaning they form teams. As a further extension to address sustainability-oriented problems, there is an increasing emphasis on transdisciplinary research and development (R&D) efforts, whereby coproduction transgresses boundaries, and science becomes visible before it becomes certain. To reach the objectives of transdisciplinary R&D efforts will require two key concepts: the gathering of information from experts, namely,
knowledge transfer
; and making connections between them, namely,
knowledge integration
. Nevertheless, challenges have been noted in terms of academic tribes that impede teamwork, and, importantly, the lack of combined thought and action in R&D. This chapter explores the collaboration, between disciplines, that has been described as the means of meeting the requirements of transdiscplinary R&D to identify, structure, analyze, and deal with specific problems in such a way that it can: grasp the complexity of problems; take into account the diversity of life-world and scientific perceptions of problems; link abstract and case-specific knowledge; and develop knowledge and practices that promote what is perceived to be the common good. However, the latter brings into question how values and culture influence collaboration and thus transdisciplinary R&D efforts. The chapter subsequently builds on an introduced conceptual framework to understand how the values and culture of individuals in a transdisciplinary R&D team, as well as those of the organization, determine the potential success or failure of the R&D effort. A case study in the bio-energy field is used as basis. The R&D project, which spanned over 3 years in South Africa, required a transdisciplinary team of engineers and scientists of various fields to collaborate with stakeholders outside the R&D team. The case emphasizes that the lack of engineering disciplines to recognize, understand, and incorporate values and culture into R&D practices will lead to project failure; pre-empting and managing expectations of social change (often) far outweigh the necessity for technological change. A number of recommendations are thus made to improve sustainable engineering R&D practices.