2011 | OriginalPaper | Buchkapitel
Transformation Design – A New Method for Developing Medical Products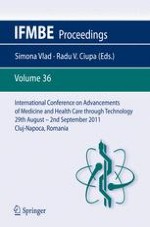 Erstes Kapitel lesen
Autoren: H. Waedt, M. Popa, P. Manea
Verlag: Springer Berlin Heidelberg
"Transformation design" is the generic name of a new scientific method, appeared at the beginning of the 21st century [1], that is about to become a new independent scientific discipline [2]. The new method gains more importance in today's conditions, when the effects of the world economic crisis are not completely eliminated.
Simplifying things, it can be said that transformation design is a process through which new, but obsolete, systems are brought to the requirements of the current quality standards [2].
Periodic mandatory consultations (chest X-ray) for certain occupational categories were made in Romania up till the EU pre-accession phase (2004 – 2006). For this were used the Micro- Radio-Photography systems (MRF), which were based on the Roentgen rays scanning principle. These systems weren't compliant with new regulations in force and, due to the specific legal and economic situation of Romania, extremely strict conditions were imposed to be satisfied until the accession, respectively till January 2007. Thus, the Romanian government had to regulate and plan the decommissioning of all MRF systems. In this situation were 21 MRF systems, new versions, which were installed just a few years earlier and recently put into operation in various clinics in Romania. These 21 MRF systems were technically new, but their principle of operation, Roentgen ray chest scanning, was no longer compliant with valid legal regulations in July 2006. The article describes the finding of a technical solution to solve the situation of the 21 MRF systems removed from service. This is possible by means of transformation design, which offers the possibility to transform these systems, whose principle of operation is contrary to legal norms in force, into X-ray systems with a new operating principle, compliant to these rules.