01.02.2017 | Research Paper | Ausgabe 2/2017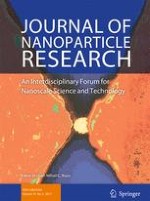 Transformation from Ag@Ag3PO4 to Ag@Ag2SO4 hybrid at room temperature: preparation and its visible light photocatalytic activity
Zeitschrift:
Autoren:

Ting Wei, Shanmin Gao, Qingyao Wang, Hui Xu, Zeyan Wang, Baibiao Huang, Ying Dai
Wichtige Hinweise
Electronic supplementary material
The online version of this article (doi:
10.​1007/​s11051-016-3726-1
) contains supplementary material, which is available to authorized users.
Abstract
In the present study, Ag/Ag2SO4 hybrid photocatalysts were obtained via a facile redox–precipitation reaction approach by using Ag@Ag3PO4 nanocomposite as the precursor and KMnO4 as the oxidant. Multiple techniques, such as X-ray diffraction pattern (XRD), transmission electron microscope (TEM), high-resolution transmission electron microscopy (HRTEM), X-ray photoelectron spectroscopy (XPS), UV–vis diffuse reflectance spectroscopy (DRS) and Brunauer–Emmett–Teller (BET), photocurrent and electrochemical impedance spectroscopy (EIS), were applied to investigate the structures, morphologies, optical, and electronic properties of as-prepared samples. The photocatalytic activities were evaluated by photodegradation of organic rhodamine B (RhB) and methyl orange (MO) under visible light irradiation. It was found that pure Ag2SO4 can partially transform into metallic Ag during the photocatalytic degradation of organic pollutants, but the Ag/Ag2SO4 hybrids can maintain its structure stability and show enhanced visible light photocatalytic activity because of the surface plasma resonance effect of the metallic Ag.