01.12.2009 | Mesostructured Materials | Ausgabe 24/2009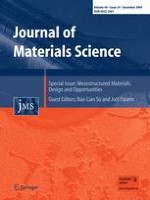 Transformation of microporous titanium glycolate nanorods into mesoporous anatase titania nanorods by hot water treatment
Zeitschrift:
Autoren:

Srinivasan Priya, Jacques Robichaud, Marie-Claude Méthot, Subramanian Balaji, James M. Ehrman, Bao-Lian Su, Yahia Djaoued
Abstract
High surface area titanium glycolate microporous multi-faceted nanorods were synthesized from the reaction of titanium alkoxides (Ti(OEt)
4
, Ti(O
i
Pr)
4
, or Ti(O
n
Bu)
4
) with ethylene glycol, using a sol–gel reflux method. The specific surface area of the as-synthesized titanium glycolate nanorods obtained from Ti(OEt)
4
is ~480 m
2
/g. A hot water treatment at 90 °C for 1 h transformed the titanium glycolate microporous nanorods into mesoporous anatase TiO
2
nanorods. The shape of the nanorods was conserved after hot water treatment and the microporous to mesoporous transformation took place without significant change in the surface area (477 m
2
/g). Micro Raman spectroscopy, scanning electron microscopy, transmission electron microscopy, X-ray diffraction, solid state NMR, and nitrogen adsorption/desorption were used to characterize the samples. As a demonstration of potential applications, the thus formed mesoporous anatase TiO
2
nanorods were tested for their photocatalytic efficiency in the degradation of crystal violet, and a photodegradation mechanism is proposed.