11.06.2018 | Ausgabe 3/2019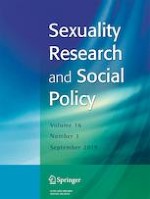 Transgender Under Fire: Hetero-cis-normativity and Military Students' Attitudes Toward Trans Issues and Trans Service Members Post DADT
Zeitschrift:
Autor:

Meredith G. F. Worthen
Abstract
The repeal of "Don't Ask, Don't Tell, Don't Pursue" (DADT) was a victory for lesbian, gay, and bisexual (LGB) military members but left most transgender (trans) military members closeted and failed to address trans military inclusion. The purpose of the current study is to explore military students' attitudes toward trans issues and trans service members in the year 2012 (post DADT) through a framework of hetero-cis-normativity: a system of prejudice whereby it is "normal" to be both heterosexual and cisgender and it is not normal (and therefore acceptable to be prejudiced toward) non-heterosexual and non-cisgender individuals. Specifically, this study utilizes both closed- and open-ended survey responses from a college student sample of active and veteran members of the United States Reserve Officer Training Core (ROTC) and/or United States Armed Forces (Army, Navy, Air Force, Marines, Coast Guard, National Guard, and Reserves) enrolled at a southern US university (
N
 = 374) to understand how gender, infantry/combat military occupation, and combat zone deployment (and interactions among these) as well as feminist identity and LGB supportive attitudes play a role in military students' attitudes toward trans men and women, perspectives about gender-affirming surgeries (i.e., "sex change operations"), and opinions about trans individuals serving openly in the U.S. Armed Forces in the immediate aftermath of the DADT repeal. Consistent with the hetero-cis-normativity framework, both the qualitative and quantitative findings revealed that being a woman, being a feminist, being supportive of gay and bisexual men, infantry/combat military occupation, and combat zone deployment were all significantly related to military students' trans perspectives. In addition, the qualitative findings situated military students across a spectrum of support of trans military service, with most students overall in the "do nothing to help trans people serve" category but a large percentage of women and LGB respondents comprising the "do more to help trans people serve" category. Implications for future research and policy recommendations are provided.