1996 | OriginalPaper | Buchkapitel
Transition from Deforestation to Sustainable Forestry — A Distant Dream?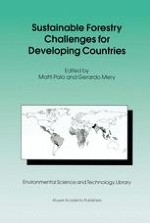 Autoren: Matti Palo, Gerardo Mery
Verlag: Springer Netherlands
Enthalten in: Professional Book Archive
This volume addresses the acute challenges of sustainable forest management with emphasis on the developing countries. Sustainability is analyzed primarily as being an opposite phenomenon to deforestation. A multilevel approach is adopted in order to take into account that the causes of deforestation are multilevel. Accordingly, the volume contains contributions at global, continental, country, and sub-national levels. The contributions by 17 authors have a multidisciplinary character and represent such fields as forest economics and policy, forest mensuration and inventory, tropical silviculture, land use economics, environmental economics and history, as well as geography and political history. One of the aims of this volume is to present a collective analysis of deforestation and sustainability using the most reliable and valid empirical data available. The authors have been among the first scientists in the world to have had access to the new FORIS-database established by the FAO. Consequently, their deforestation modeling is based on better data by quality and quantity than other respective modeling attempts. Population pressure, income, deforestation costs and risks were found both theoretically and empirically to be underlying causes of tropical deforestation. There is no immediate way to stop deforestation. A transition to sustainable forest management can gradually take place along with general transformation of societies with adequate national and international political will.