2017 | OriginalPaper | Buchkapitel
Transition from Plan Driven to SAFe®: Periodic Team Self-Assessment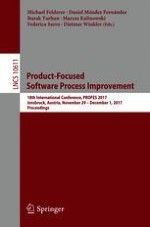 Erstes Kapitel lesen
Autoren: Mohammad Abdur Razzak, John Noll, Ita Richardson, Clodagh Nic Canna, Sarah Beecham
Abstract
Context: How to adopt, scale and tailor agile methods depends on several factors such as the size of the organization, business goals, operative model, and needs. The Scaled Agile Framework (SAFe®) was developed to support organizations to scale agile practices across the enterprise.
Problem: Early adopters of SAFe® tend to be large multi-national enterprises who report that the adoption of SAFe® has led to significant productivity and quality gains. However, little is known about whether these benefits translate to small to medium sized enterprises (SMEs).
Method: As part of a longitudinal study of an SME transitioning to SAFe we ask,
to what extent are
SAFe
®
practices adopted at the team level?
We targeted all team members and administrated a mixed method survey in February, 2017 and in July, 2017 to identify and evaluate the adoption rate of SAFe
®
practices.
Results: Initially in Quarter 1, teams were struggling with PI/Release health and Technical health throughout the organization as most of the teams were transitioning from plan-driven to SAFe®. But, during the transition period in Quarter 3, we observed discernible improvements in different areas of SAFe practice adoption.
Conclusion: The observed improvement might be due to teams merely becoming more familiar with the practices over-time. However, management had also made some structural changes to the teams that may account for the change.